Gangubai lives alone. Her husband died many years ago. However, for the past year, Gangubai has been picking up chocolate wrappers and discarded news paper she finds in her village. At home, she pores over her pile of scraps, trying to read the words written on them. Whenever they prove too difficult, she goes to a neighbour's house to ask for help. Aged 65, Gangubai is learning to read for the first time.
She is one of 28 women in Maharashtra, India, who have started attending the aajibaichi shala, the "school for grandmothers".Every day, between 2pm and 4pm, the aajis, or grandmothers, of Phangne meet in a colourful bamboo hut, uniformed in pink saris and holding schoolbags. For the aajis, the school is a last chance to learn to read and write. "I go to school with joy," says Gangubai.
Getting an education has given her a new lease of life. "After all these years, I finally got the chance. I never thought I would go to school, and look now – I can read the whole alphabet." Most people seem to underestimate the importance of education, and how vital it is that people learn to read and write. Gangubai is just one of the 273 millions Indians who cannot read and write. Women are 15% more likely to be illiterate than men are, which leads them to be excluded from political and social manners in the household, leading them to do menial jobs.
"None of us went to school. We were poor. I used to see rich people sending their daughters, and I always wanted to go. But I was never allowed to. If I went to school, who would bring water from the well, or make cow dung cakes [for fuel] or wash the family's clothes?"
According to her teacher, Gangubai is the best student in her class. "She loves studying. She tries to read anything she sees – words on walls, in people's houses, everywhere," says Sheetal More.Though students like Gangubai race ahead, many women struggle to write even a few letters of the alphabet. "It's very different to teaching young children," says More. "A lot of the women keep forgetting what we have learned so you have to teach them slowly, with patience. You can't scold them like children, because they are aajis." Elderly people are supposed to be treated with respect in Indian culture. "Many of them have hearing problems, many of them can't see. It will take time, but one day they will learn. It is their wish, that's why they come to class every day," she says.
Though a number of government initiatives since independence have increased female literacy, older generations have never had the chance to catch up on years of lost education.
"It is humiliating to go to the bank and give your thumbprint. That's why it's important to learn to sign your name," says Ramabai, who attends More's class. "Who knows, if we'd been given the chance to study when we were children, we may all have become doctors."
Sheetalbai, 90, has been trying to write the letter "a" for almost a year. Her handwriting is still shaky, and she still forgets what the letter looks like a few hours after class. But she will not give up. "I like learning," she says, smiling. "Whatever I learn, I'll take up with me to God."
Sheetalbai is one of the oldest women attending classes. "When I see my grandchildren going to school, I feel that I should have gone," she says.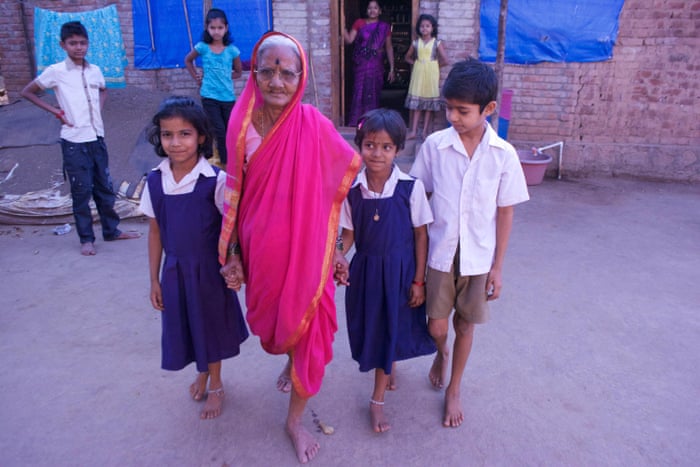 The school was set up in March last year by Yogendra Bangar, a teacher at the village's elementary school, who is behind a series of development projects in Phangne including building toilets for every household and introducing clean drinking water.
More, who has been teaching the aajis for the past year, left school when she was 15. "When Yogendra first asked me to take the class I was worried. I can't tell an older woman what to do. He was asking me to teach my own mother-in-law," she says. "But the aajis are so eager to learn. They are obedient, and they never make me feel like I can't teach them something, just because I'm younger than them.
"They tell me that they don't want to go up to heaven as illiterates. They say, 'When I meet God, I should at least be able to sign my name.'"